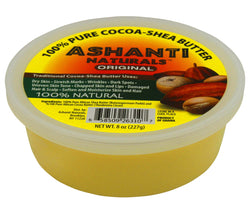 ASHANTI - 100% PURE COCOA-SHEA BUTTER 8 oz.
SKU: AN-08CS-PACK
Description
Ashanti Naturals 100% Pure Cocoa Butter is extracted from high quality, fresh cocoa beans. The moisturizing abilities of cocoa butter are frequently recommended for prevention of stretch marks in pregnant women, treatment of chapped or burned skin and lips, and as a daily moisturizer to prevent dry, itchy skin. Cocoa butter's velvety texture, pleasant fragrance and emollient properties make it one of the most popular ingredients in skin care products.
How To Use
For best results, apply daily all over your body. Unrefined Cocoa/Shea Butter contains natural oils essential for healthy skin. Allow time for absorption. Store in a cool place.
What It Does
Traditional Cocoa Butter Uses:
- Dry Skin, chapped lips, and minor burns
- Massage, swelling and inflammation
- Conditioner for damaged hair and scalp
- Dark spots and skin discolorations
- Stretch marks, wrinkles and blemishes
Ingredients
100% Pure African Shea Butter (Butyrospermum Parkii), and 100% Pure Cocoa Butter (Theobroma Cacao)
Product Video