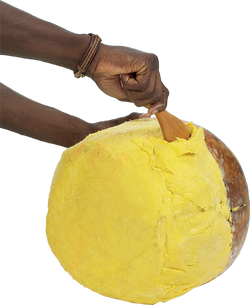 YELLOW SHEA BUTTER: IN BULK: UNREFINED RAW AFRICAN SHEA BUTTER
SKU: SHE-BULK-Y-5 LBS
Description
With the popularity that unrefined Shea Butter has attained, your best bet would be to purchase it in bulk. Starting at 5 and going up to hundreds of pounds, our pure yellow Shea Butter is perfect for vendors looking to get a piece of this extremely profitable market. Our Wholesale Shea Butter has been widely respected, and it is used to treat many skin issues, such as eczema, psoriasis and even dry skin. What's more? Shea Butter is an amazing agent for hair and overall body smoothness. After using this raw Shea Butter, customers always rush back for more, as they get attached to the fantastic effects that it has on their skin. Many customers have also enjoyed using the Shea Butter in bulk to make unrefined Shea Butter Soap or unrefined Shea Butter Lotion.
Business owners, you don't want to miss out on this wonderful opportunity! Your customers will be extremely satisfied with the benefits and multiple uses that Shea Butter provides for them. Make sure you are a part of this lucrative market and order it today. You will not regret it.
Click here for more on Shea Butter.
How To Use
For best results, apply daily all over your body. Unrefined Shea Butter contains natural oils essential for healthy skin. Allow time for absorption. If necessary, dab off excess. Store in a cool place.
What It Does
Traditional Shea Butter Uses:
- Dry Skin, chapped lips diaper rash and minor burns
- Massage, swelling and inflammation
- Conditioner for damaged hair and scalp
- Dark spots and skin discolorations
- Stretch marks, wrinkles and blemishes
Ingredients
100% Pure African Shea Butter (Butyrospermum Parkii)
Product Video