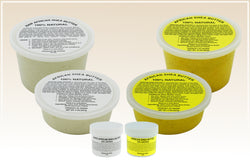 WHOLESALE: CREAMY PURE NATURAL AFRICAN SHEA BUTTER: STARTER KIT
SKU: KIT-2
Description
Introducing the newest and easiest way for you to order our acclaimed and top-rated Shea Butter.
This Shea Butter starter kit offers you a wide variety of the different pre-pack sizes in which we sell our rich, creamy and hand-poured Shea Butter. The best part about this kit is that it allows you to purchase many different sizes of both our yellow and white Shea Butter, yet it gives you the dozen discount price!
Ideal if you want to start selling Shea Butter or if you just want to save a few bucks, this Shea Butter starter kit is the quickest, easiest, and least expensive way to start selling Shea Butter.
How To Use
What It Does
Shea Butter Starter Kit
Wholesale Market Value $69
Starter Kit Price $57
Suggested Retail Value $168
Expected Profit $111
3 PCS SHE-03W - 2-Ounce Jars of 100% Pure White Shea Butter
3 PCS SHE-03Y - 2-Ounce Jars of 100% Pure Yellow Shea Butter
3 PCS SHE-08W - 8-Ounce Jars of 100% Pure White Shea Butter
3 PCS SHE-08Y - 8-Ounce Jars of 100% Pure Yellow Shea Butter
3 PCS SHE-16W - 16-Ounce (1 Pound) Jars of 100% Pure White Shea Butter
3 PCS SHE-16Y - 16-Ounce (1 Pound) Jars of 100% Pure Yellow Shea Butter
Ingredients
100% Pure African Shea Butter (Butyrospermum Parkii)
Product Video