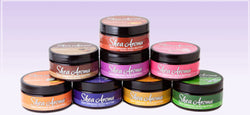 Shea Aroma® Whipped Shea Butter Starter Kit
SKU: KIT-SA
Description
Introducing the newest and easiest way for you to order our acclaimed and top-rated Shea Aroma products.
This Shea Aroma starter kit offers you a wide variety of the different scented Shea Butters that Shea Aroma has to offer. You'll receive a variety Shea Butter in several wonderful scents including Midnight Amber, Pink Sugar and our best selling Coco Mango.
Ideal if you want to start selling Shea Aroma products or if you just want to save a few bucks, this Shea Aroma starter kit is the quickest, easiest, and least expensive way to start selling Shea Aroma's leading products on the market.
How To Use
For best results, apply daily all over your body. Unrefined Shea Butter contains natural oils essential for healthy skin. Allow time for absorption. If necessary, dab off excess. Store in a cool place.
What It Does
Shea Aroma's Starter Kit
Wholesale Market Value $78
Starter Kit Price $75
Suggested Retail Value $180
Expected Profit $105
Shea Aroma Whipped Shea Butter Starter Kit
12 PCS Assorted Fragranced Shea Butter
Ingredients
SHEA AROMA: 100% PURE WHIPPED SHEA BUTTER
100% Pure African Shea Butter (Butyrospermum Parkii) and fragrance.
Product Video