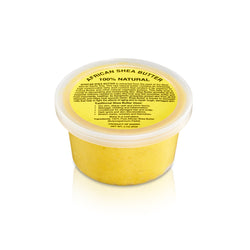 PURE NATURAL YELLOW AFRICAN SHEA BUTTER FROM AFRICA: 3oz JAR
SKU: SHE-03Y-DOZ
Description
This jar of pure Shea Butter can easily fit into your handbag or briefcase so you can take it with you on the go wherever you're headed. Solve all your skin problems with this one-of-a-kind product.
Click here for more on Shea Butter.
How To Use
For best results, apply daily all over your body. Unrefined shea butter contains natural oils essential for healthy skin. Allow time for absorption. If necessary, dab off excess. Store in a cool place.
What It Does
Traditional Shea Butter Uses:
- Dry Skin, chapped lips diaper rash and minor burns
- Massage, swelling and inflammation
- Conditioner for damaged hair and scalp
- Dark spots and skin discolorations
- Stretch marks, wrinkles and blemishes
Ingredients
100% Pure African Shea Butter (Butyrospermum Parkii)
Product Video